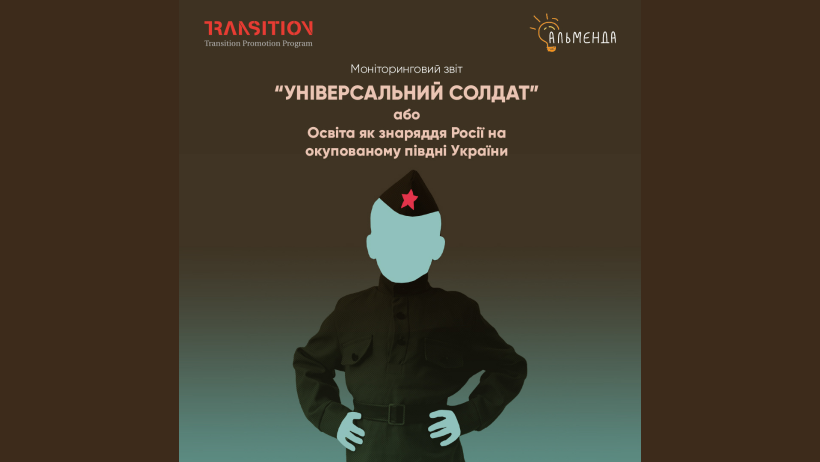 Monitoring report "Universal Soldier" (24 February-31 May 2022)
Since the beginning of the occupation of the Autonomous Republic of Crimea and the city of Sevastopol, the Russian Federation has been using education (both formal and non-formal) to militarize the population of the occupied territories and destroy Ukrainian identity.
Among the areas of militarization implemented by the Russian Federation in the occupied territories, we distinguish the following:
intimidation by external threats, systematic formation of the image of Ukraine as an enemy, which must be opposed with weapons in hand, and fostering a sense of responsibility for the fate of the Russians;
promoting the cult of violence, weapons and war;
teaching the basics of military affairs, handling weapons;
nurturing support and respect for the power structures and Armed Forces of the Russian Federation;
creating motivation to volunteer for service in the Armed Forces of the Russian Federation.
Since February 24, 2022, the Russian Federation and the occupying authorities in Crimea have been persistently using the education system to form a loyal attitude of the population to the military actions that Russia is conducting on the territory of Ukraine. This includes the involvement of preschool and school-age children in actions in support of the so-called «special operation in Ukraine», as well as conducting thematic events of propagandistic nature, aimed at forming a distorted understanding of historical and contemporary events in Ukraine and other measures. In the newly occupied territories, education has also become the focus of attention of the Russian authorities: the translation of education into Russian, applications for the replacement of textbooks, preparation for re-certification of teaching staff and more.

The situation with the use of education for militarization, destruction of Ukrainian identity and formation of loyalty to military actions and war crimes committed by the Russian Federation on the territory of Ukraine is the subject of this monitoring report.
This monitoring report covers the period from February 24 to May 31, 2022.
The monitoring was prepared by the Center of Civic Education "Almenda" within the framework of the project "Chronicles of the Ruined Childhood". The project is implemented with the financial support of the Ministry of Foreign Affairs of the Czech Republic as part of the Transition Promotion Program. The views expressed in this material are those of the authors and do not reflect the official position of the Ministry of Foreign Affairs of the Czech Republic.